Pert And Wbs Charts For Project Risk Management
WBS Chart Pro and PERT Chart EXPERT are used to present and modify project schedules in two different graphic formats. This software has been developed by Critical Tools. Both of these applications can be launched from the Tools toolbar or from the Tools menu. If application is not installed on the computer, a dialog box will open that will allow you to browse for the application.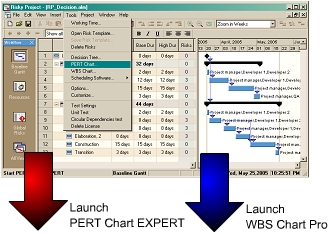 RiskyProject generates a temporary MPX file with a project schedule and passes it to WBS Chart Pro and PERT Chart Expert. If you want to use a schedule that has been updated in these applications in RiskyProject, you will have to save data from WBS Chart Pro and PERT Chart Expert in MPX format and open it in RiskyProject.