RiskyProject is integrated with most popular project management and project management software. RiskyProject integrated solutions including RiskyProject Addin Microsoft Project as well as integration with Oracle Primavera, MindView by MatchWare, Aurora by Stottler Henke, and many other software. RiskyProject is also integrated with Microsoft Excel and Microsoft PowerPoint.
Project Risk Analysis with Microsoft® Project
RiskyProject seamlessly integrates with Project 2003 and higher. When RiskyProject is installed it checks if Project is installed on the computer and adds a RiskyProject toolbar and macro to Project. Using this toolbar you may transfer your project schedule to RiskyProject, add risks and uncertainties and perform the analysis. Your schedules in Project and RiskyProject are fully synchronized: if you change schedule in Project it will be reflected in RiskyProject. As a result, all the risks and uncertainties defined in RiskyProject will be linked to your Project schedule.
Project Risk Analysis with Oracle® Primavera
RiskyProject is designed to easily integrate with Oralce Primavera Project Management software. RiskyProject can read Primavera project schedules and perform project risk analysis Results of analysis can be exported back to Primavera software. RiskyProject is also integrated with Primavera's SureTrak. SureTrak can be launched directly from RiskyProject. Therefore, you can quickly import your Primavera schedule into RiskyProject.
MindView by MatchWare

Project Risk Analysis with MindView by MatchWare
MatchWare is a leading provider of multimedia, screen recording and visual thinking software that enhances individuals' ability to create, visualize, manage and distribute information. MatchWare's MindView 3 Business is a professional mind mapping software application that allows users to brainstorm and visualize ideas quickly and easily. Therefore, the integrated solution of MindView and RiskyProject can be used to define a project plan, assign risks and uncertainties, and perform quantitative risk analysis
Project Risk Analysis with Aurora by Stottler Henke
The Aurora(TM) intelligent project scheduling software combines a variety of scheduling techniques, intelligent conflict resolution, and automated decision support to generate shorter schedules for resource-constrained critical-path projects. Almost 20 years of R&D have gone into Aurora's development, mostly to meet many of NASA's toughest planning & scheduling challenges. Aurora also includes the world's most advanced multi-project Critical Chain implementation. Aurora's scheduling engine can be seamlessly integrated with off-the-shelf scheduling tools (e.g., Primavera, MS Project, Deltek Open Plan); and can read and write data to RiskyProject.
FastTrack™

Project Risk Analysis with FastTrack™
AEC Software's FastTrack Schedule 10 makes it easy to organize, track, and manage all project details. RiskyProject integrates with AEC Software's FastTrack Schedule 10 using an XML interface. Just export FastTrack's project schedule into XML format and open it in RiskyProject. You can then assign risks and uncertainties and perform quantitative risk analysis on the project. In this way, you can analyze the risk profile of FastTrack's schedules.
WBS Schedule Pro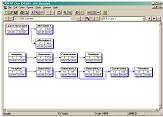 Presenting Results of Risk Analysis in WBS Schedule Pro
WBS Schedule Pro is developed by Critial Tools. WBS Chart in WBS Schedule Pro is used to brainstorm projects by breaking them down into manageable pieces. Network Chart in WBS Schedule Pro is used to easily define the dependencies in the project. You can present risk adjusted project schedule generated in RiskyProject as WBS Chart or Network Chart.
Project Decision and Risk Analysis with MindManager™
MindManager is the visual tool for planning, collaboration and business process management. The integrated solution of MindManager and RiskyProject can be used to define a project plan, assign risks and uncertainties, perform quantitative risk analysis, and present results of probabilistic analysis in MindManager. Moreover; if you have RiskyProject Professional and Vanguard's DecisionPro, you can perform a decision analysis: select a project alternative based on the plan created in MindManager.
Milestones™
Project Risk Analysis with Milestones™
Milestones by Kidasa Software Inc. is a project management and data presentation. Integrated RiskyProject/Milestones solution allows the project manager to produce presentation reports from RiskyProject schedule, manage large projects and coordinate team projects, format schedule to meet any reporting needs, publish the schedule on Internet.
RiskyProject can use a project schedule created in Milestones to perform decision and quantitative risk analysis. Results of the analysis can be imported back to Milestones.
Cloud project management software
"Built On Vision" is a cloud based software suite that provides leading edge project controls tools. "Built On Schedule" allows you to compare multiple schedules instantly so that you can identify trends and analyze issues. "Built on ProductivityTM" works with your ERP or costing system to mine cost and labor data for valuable analysis within your project allowing you to make targeted adjustments. "Built on Forecast" allows you to accurately forecast your project from anywhere while tracking communications about changes in real time and instantly comparing it to prior forecasts. "Built On Balance" gives you the power to leverage Line of Balance and render your schedule into a simple graph that eliminates the need to bring multiple reports into a CPM meeting.
CA Project and Portfolio Management (CA Clarity PPM)
CA Project and Portfolio Management (CA Clarity PPM) provides the visibility, control, and automation to support today's most critical business processes, including IT Governance, New Product Development, Risk and Controls Management and Enterprise Program Management (EPM).  RiskyProject/CA PPM solution enables integrated qualitative and quantitative project and portfolio risk management and risk analysis based on CA PPM data. Intaver Institute Inc. using technology and tools offered by its partner IT-ROI Solutions implements custom integration between RiskyProject/CA PPM.  RiskyProject can read project and portfolio schedules as well as risks with their properties from CA PPM. Using this information RiskyProject generates risk adjusted project schedules, rank projects based on risks and uncertainties within a portfolio, select critical risks and perform risk mitigation planning.