Project Risk Management with Sciforma PS8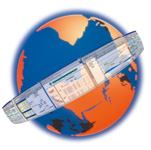 Dedicated to building innovative features within its software since 1982, Sciforma's PS8 provides the first PM software to fully implement Theory of Constraints and Critical Chain. PS8 capitalizes on over 20 years of experience in providing project management solutions in all areas of industry and government, including manufacturing, information sciences, construction, telecommunications, and research and development. From the smallest marketing campaigns to the largest space program, PS8 provides an abundant of features to keep your projects on schedule and on budget.
RiskyProject can use a project schedule created PS8 in to perform decision and quantitative risk analysis. Moreover, results of the analysis can be imported back to PS8.
Create project schedule in PS8. This schedule can be exported to MPX file.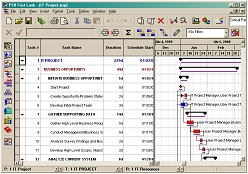 click here to enlarge
Import the schedule created in PS8 to RiskyProject, assign risks and uncertainties.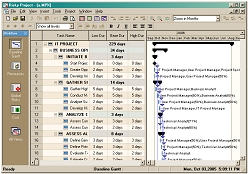 click here to enlarge
Perform quantitative risk and decision analysis in RiskyProject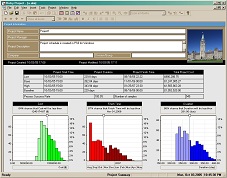 click here to enlarge